Case Study - Northstone NI
Northstone (NI) Limited is the largest construction and building materials group in Northern Ireland with three operating divisions namely Farrans Construction, Northstone Materials and CUBIS Systems.

Customer
Products and Services
Insurance Database,
Cube Quality Testing and Materials Division Management Information System (MIS),  Bespoke Cloud and Mobile Software Development
Industry
Construction, Materials and Infrastructure
The Challenge
Northstone had a number of bespoke legacy software applications which were hosted internally and based on outdated technology which was no longer supported.
The challenge was to replace these standalone legacy systems with up to date browser-based software solutions, based on the latest Microsoft technologies which could be supported by Northstone IT and Ecom going forward. In addition, they also wanted the new systems to reflect the changes in business processes which had taken place over time and address problems and inefficiencies inherent in the legacy systems.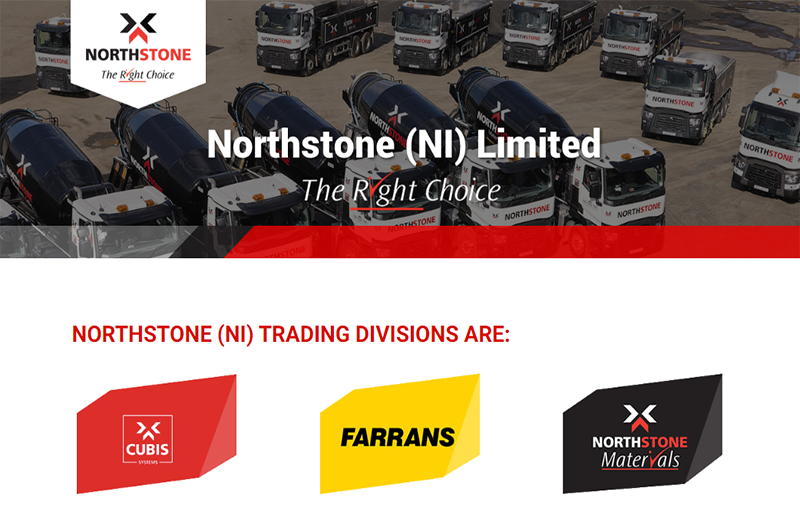 The solutions needed to accommodate the varied range of system users across Northstone in their specific business tasks and to ensure all business users were bought into the new solution, demonstrating the benefits of replacing the old legacy systems with the efficiencies in the new systems.
A key objective of the new systems was to produce information which could be interfaced with the central ERP finance system without any additional data manipulation or rekeying. This would assist Northstone in producing outputs more efficiently.
Linked to this key objective was ensuring the new systems helped Northstone to meet their SOX (Sarbanes-Oxley) and GDPR compliance requirements.
The Outcome
Working closely and collaboratively with the various Northstone Teams, Ecom embarked upon a series of projects, designing, developing and implementing a range of new applications, each accommodating the individual business requirements whilst providing core functionality and user-friendly intuitive structure based on modern Microsoft Technologies.
Ecom developed the new systems with real time integration incorporated, for example, pulling data from the central ERP finance system and pushing approved and verified information back into the central ERP finance system through an automated task.
All systems are based on a central dashboard with responsive design and can be used on any device e.g. smart phone, tablet or laptop/desktop with secure functionality which provides greater flexibility and efficiency.
One of the new systems is used by Teams in Dublin, Belfast and Cork and reports can be produced at a customer, site or organisation wide level as required.
Ecom continue to work in partnership with Northstone and have plans for future developments.
Benefits
Systems on latest technology supported by Ecom
Northstone meet their SOX & GDPR Compliance requirements
Elimination of paper-based processes
Increased productivity with time and cost savings
Customer information produced and transferred to the company ERP system without any rekeying
Greater access to important data and data accuracy
Inbuilt security, tracking and audit trail
Highest levels of support
Experience with Ecom
"Northstone have worked with Ecom Software since 2016 to deliver a number of solutions across the group to meet distinct customer and staff requirements; the whole process from requirements gathering, through software build, testing and release to live has been very professionally managed.
The Ecom Team consistently demonstrate that we are a valued customer; they have taken time to understand our business and have diligently ensured that the developed software successfully meets our requirements and delivers the benefits envisaged"
– Andrew Donnan, Finance Director
Interested and want to learn more ?
We combine critical business thinking, expert experience and a consultative customer focused approach to ensure we deliver real business value and people centred solutions

Interested and want to learn more ?
Ecom Software Limited
The Innovation Centre, NI Science Park
Queens Road, Belfast, BT3 9DT